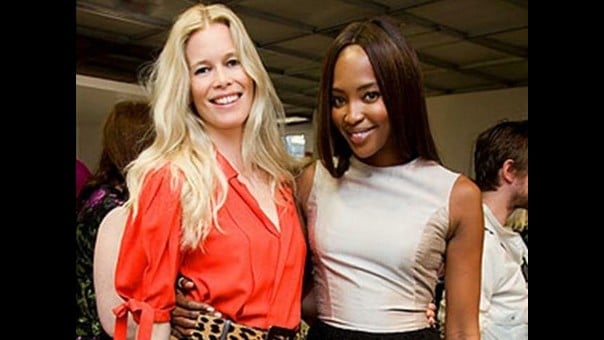 An Interview from Grazia, May 1st 2012
Guess- the American denim brand is celebrated their 30th anniversary in 2012 and to commemorate such a milestone in the fashion world they did all sorts of exciting things.
First off there's the cute anniversary collection – inspired by the biggest Guess hits of the past three decades and brilliantly thrown into the style spotlight last week by Brit model Tali Lennox at Coachella.
Secondly, we attended a very glamorous and celeb-studded party en Paris- hosted by Guess.
And thirdly, the Guess dream team of photographer Ellen Von Unwerth (who has shot the majority of their signature fabulous campaigns over the years) and legendary supermodel Claudia Schiffer (one of the original Guess girls) have once more combined fashion forces to create a 30th anniversary advertising campaign in homage to a previous shoot. "Shooting the Guess 30th anniversary campaign was like going back in time."
What Claudia told 
Claudia told WWD, "It brought back so many great memories and has been a lot of fun working together again with Ellen and Paul. Marciano Guess will always have a soft spot in my heart and I'm excited that, 23 years later, we can still work together so successfully."
You see, being a model cast for a Guess campaign is no ordinary job, it's a potentially life changing event. Co-founder Paul Marciano has launched a thousand faces and some of his most loyal Guess-ettes have spoken of their adoration for the brand and the signature '50s bombshell style he has patented over the years. 
"I have been so blessed to have worked with many of the greatest fashion photographers and designers who have produced images which have been so important throughout my career, but that special combination with Ellen von Unwerth and Paul Marciano for Guess was amazing. Says Naomi Campbell, "I had always loved the Guess images and I was so excited to do it because it was also the first time I went to Brazil and Rio and to be the 'Girl from Ipanema' for a day was a dream.… I was in heaven!"
 Eva Herzigova, Carla Bruni and Drew Barrymore all have a Guess campaign to thank for upping their exposure. 
But who will be next? Paul, call us!