Guess Executive Chairman Paul Marciano and Barbara Bundy, vice president of education at FIDM, which is celebrating the storied fashion brand. (Emma McIntyre / Getty Images for Guess Inc.)Guess is known for its amazing advertising campaigns as well as for its stonewashed jeans.
The company was founded by Paul Marciano and his three brothers in 1981.
These days only Paul and his brother Maurice are still part of the board of directors. Today the company operates some 1,680 stores worldwide.
On June 2017, In celebration of 35 years of business, the Fashion Institute of Design and Merchandising Museum in Los Angeles decided to create an exhibition, "Guess: 35 Years & Still Dreaming."
The Guess installation at the Fashion Institute of Design and Merchandising (FIDM), encompasses two themes. "Denim Is Our World" explaining the Guess denim design and the process it goes through -from sanding and destroying to washing with pumice stones, acid,  and even golf balls, while "Decades of Guess: Campaigns, Culture + Color" displaying looks from each decade, along with the company's distinctive advertising imagery starring models such as Claudia Schiffer, Anna Nicole Smith, Naomi Campbell, Kate Upton, Gigi Hadid and Hailey Baldwin.
Most of the top models had a role in a Guess campaign and sometimes it's what made them eventually a supermodel.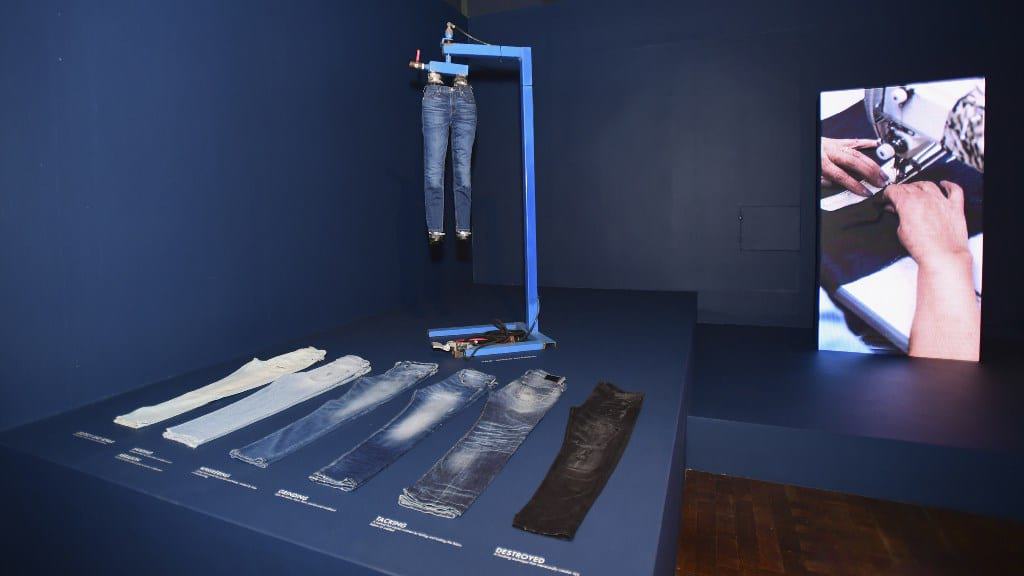 Paul Marciano and his brothers
"My brothers and I started [the company just two blocks away, on Broadway, at two different offices. If you look at the triangle of [the] Guess [label], you will see the numbers 1201 and 1203, which were simply the suite numbers of our rooms. People were thinking, 'This is black magic' and trying to figure it out. We drove from the Westside of Los Angeles to downtown every day, and we found the name of Guess on a billboard for McDonald's in Koreatown.
"It was a new, nationwide campaign that had 'guess' as the big word, and very small on the bottom, it said, 'What is in a Big Mac?' with a picture of a new, gigantic burger. Three of us didn't speak English. And in French, 'guess' means nothing. The one who spoke English said, 'Still it means nothing to me.' Long story short, Maurice designed the first red triangle with a question mark [to represent Guess], and I shot my first campaign in 1982."
"The influence of Hollywood has been, from Day One, a big inspiration for me on every campaign. My dreams and influences and inspiration came through old movies like 'La Dolce Vita' from Fellini, 'And God Created Woman' with Brigitte Bardot, and all of the classic, black-and-white movies of Sophia Loren.
Three iconic women 
"I really always had three iconic women in my head:: Loren, Bardot and Marilyn Monroe, and that guided me always to define what a Guess Girl was and [who she] is in my eyes today."
"In a few words, the essence and style of Guess today is simply California, smart, sexy, and what is right in your own eyes. … It doesn't have to follow any trend or 'must-have' as long as it's what you feel good about [wearing]."
This article posted on the Los Angeles Times magazine.