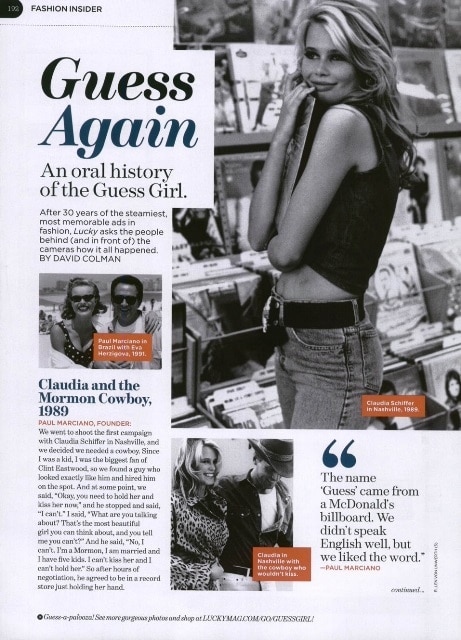 An oral history of the Guess Girl.
After 30 years of the steamiest, most memorable ads in fashion, Lucky asks the people behind (and in front of) the cameras how it all happened.
BY DAVID COLMAN, 1997
Claudia and the Mormon Cowboy, 1989
Paul Marciano, Founder: We went to shoot the first campaign with Claudia Schiffer in Nashville, and we decided we needed a cowboy. Since I was a kid, I was the biggest fan of Clint Eastwood, so we found a guy who looked exactly like him and hired him, on the spot. And at some point, we said, "Ok, you need to hold her and kiss her now" and he stopped and said, "I can't". I said, "What are you talking about? That's the most beautiful girl you can think about, and you tell me you can't?" And he said, "No, I can't. I'm a Mormon, I am married and I have five kids. I can't kiss her and I can't hold her. "So after hours of negotiation, he agreed to be in a record store just holding her hand.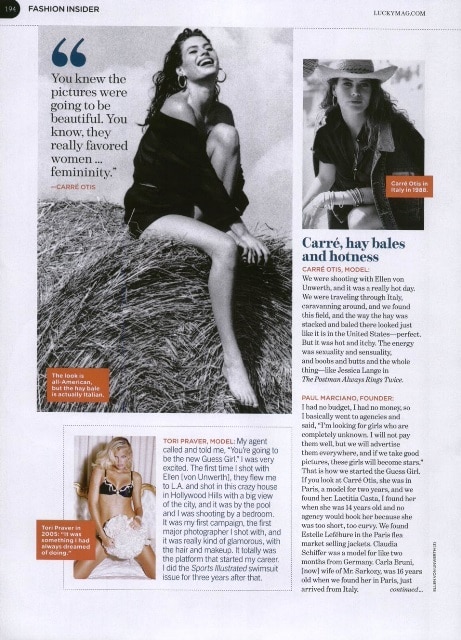 Carre', hay bales And hotness
Carre' Otis, Model: We were shooting with Ellen von Unwerth, and it was a really hot day. We were traveling through Italy, caravanning around, and we found this fleld, and the way the hay was stacked and baled there looked just like it is in the United States-perfect. But it was hot and itchy. The energy was sexuality and sensuality, and boobs and butts and the whole thing-like Jessica Lange in- The Postman Always Rings Twice.
Paul Marciano, Founder: I had no budget, I had no money, so I basically went to agencies and said, "I'm looking for girls who are completely unknown. I will not pay them well, but we will advertise them everywhere, and if we take good pictures, these girls will become stars. " That is how we started the Guess Girl. If you look at Carre' Otis, she was in Paris, a model for two years, and we found her. Laetitia Casta, I found her when she was 14years old and no agency would book her because she was too short, too curvy. We found Estelle Lefebure in the Paris flea market selling jackets. Claudia Schiffer was a model for like two months from Germany. Carla Bruni, [now) wife of Mr.Sarkozy, was 16years old when we found her in Paris, just arrived from Italy.
Tori Praver ,Model: My agent called and told me, "You're going to be the new Guess Girl." I was very excited. The first lime I shot with Ellen [von Unwerth], they flew me to L.A. and shot in this crazy house in Hollywood Hills with a big view of the city, and it was by the pool and I was shooting by a bedroom. It was my first campaign, the first major photographer I shot with, and it was really kind of glamorous, with the hair and makeup. It totally was the platform that started my career. I did the Sports Illustrated swimsuit issue for three years after that.