Paul Marciano – His vacation in LA and the beginning of doing business in America
PAUL MARCIANO : Now Armand is married and with three brothers goes on vacation in November 1977  And we go to Los Angeles. We had never been to America . We landed at night in Los Angeles. We were on a TWA flight — the airline that disappeared, of course — from Marseille to Paris, Paris to New York, New York to Los Angeles.
INGRID SISCHY : Wow, what a journey , huh? Did you all sit in the same row?
PAUL MARCIANO : Yeah , always . And , of course, economy . So we landed and the only hotel name we knew about was the Beverly Hills Hilton, on Wilshire Boulevard . So we went there and stayed for two weeks .
We didn't  know anybody or anything . We knew one guy, Philippe, who worked at the Meridian. I think it was the Meridian, or something else, but it was a French hotel. We went out of the Beverly Hills Hilton in the morning and onto the street and there was nobody on the street .
SANDY BRANT : They 're all in a car.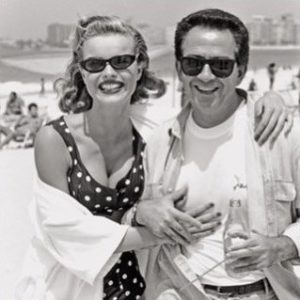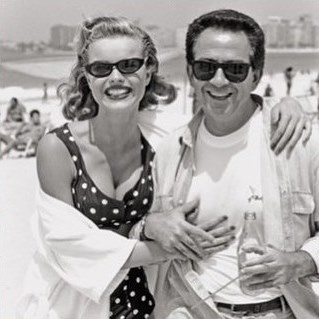 PAUL MARCIANO : Exactly . We said, "What is this?" I mean, there was nobody walking. We thought it was a holiday or something , but it was a normal day in the 70s    Nobody walked in the streets. We didn't  know we had to rent a car . So we walked down the street block after block, at 7:00 or 8:00 in the morning, and ended up on Rodeo Drive on the first day.  None of the brands I think there was no Chanel. I think there was already Cartier. We walked along the street and people said hi to us, to Maurice, George and me and we didn't understand why they said hi to us. Everybody, man, woman, everybody, and my gosh, everybody is so nice here . And this was back in the 70s – we didn't have the demographics we have today it was 90% pure American. There were not all the new demographics of Asian, Korean, Persian, Chinese. And it changed completely in 30 years. That was one strange thing for us – all of these people saying hi. 
So then, of course, we were all single and we asked the concierge, "Where do we go? We want to go out at night?" He sent us to this club called Carlos & Charlie's on Sunset Boulevard. It was incredible. Don't forget, we had a background in clubs. We used to work in clubs as barmen, DJs, bus boys, everything, which I didn't mention to you, but you know that . And so, of course, we loved the crowd. The day or two after we took a taxi Lo Santa Monica and Venice -to the beach .The beach was so big, so long, so clear, so clean . Miles of sand. We don't have that in France.  We don't have a beach where you can walk miles.
We saw the Palm Trees, the ocean, the sand, and we see the girls arriving on the beach. We said , "This is it . We are going to live here ." We all said, "We 're moving. "
What about the business in France? Who cares about the business in France? We are moving. The two weeks vacation became two months vacation .
INGRID SISCHY : You didn 't go home?
PAUL MARCIANO : We didn't go home .We didn't have anything to go home to. We didn 't have any girlfriends or wives or children, so it didn 't make any difference . We stayed in a hotel two months .
PAUL MARCIANO : We bought a house immediately . We set up a company called St. Tropez Fashion immediately on the spot .
INGRID SISCHY: That 's what you called the company?
 PAUL MARCIANO : The name of the company was called St . Tropez Fashion.
Immediately we went to find the lawyer with our friend Philippe , the French guy. George, Armand and I did not speak English – not a word. Armand was not with us. It was only George and me . Maurice spoke English because he went to university. And Philippe Medilac, the French guy, spoke perfect English . We found a store in Century City and we called the store right away MGA .
PAUL MARCIANO : So, in '77, now we had what we call a townhouse — a combination between a house and an apartment on top of the hill, in Beverly Glenn . I think we paid $200,000 or $150,000 for the townhouse.
We had a store in Century City called MGA. Maurice and George decided to stay in Los Angeles. They went back to Marseille, picked up all their stuff and went back to LA right away. Armand and I stayed in Marseille . In '77 we opened four stores — the Century City and we opened Santa Monica Boulevard and Rodeo Drive on the corner that goes to Rodeo Drive but not on Rodeo Drive, which the rent was way cheaper. Then we opened a store in Palm Springs. Why Palm Springs? We loved, again, the crowd in Palm Springs .We loved it there. Palm Springs in the 70s was incredible.
PAUL MARCIANO: And the architecture was so beautiful. The architecture there in the 70s – 35 to 40 years or ago – was incredible. I bought my house there in '82 for $105,000 — five bedrooms in Palm Springs with a pool, with a backyard, with everything . And as a stupid guy, I sold it 10 years later for $200,000.
INGRID SISCHY : Now you said you loved the crowd .
Give me the glamour of the crowd that you were attracted to there.
PAUL MARCIANO : The crowd was all the people from LA between 18 to 25. They were going there because during the winter the warm weather was incredible there. You could drive from downtown to Palm Springs in an hour and 10 minutes and there was no traffic.
INGRID SISCHY: And isn 't it also that it looks like a movie and it's those people from the movies and Sammy Davis and — talk about all that .
PAUL MARCIANO : You have all these wonderful houses .There were no two-floor houses . Everyone on my street, the next street, the next street, all had houses with one floor. It was very, very 50s-60s architecture.
INGRID SISCHY : It 's beautiful. But for your Paul, was it glamorous? Was it like the movies?
Was it like Steve McQueen movies?
PAUL MARCIANO : The whole atmosphere. I don't know if Dean Martin had a house here, but for sure Sinatra had it. For sure Bob Hope was there. For sure I think Cary Grant had a house there. I know because I know well his ex-wife. What' s her name? Dyan Cannon .
INGRID SISCHY : So it was that movie life, huh?
PAUL MARCIANO : James Caan? Wow . Here was a place where you go at the Pan-Canyon Hotel — I don 't know if it still exists and I have a funny story to tell you about that . And you get a room for like $50. All the it was amazing . The only terrible thing there was the food .
There were no good restaurants. And us as French, we had a nightmare to eat there. I mean , there was nothing good .
Breakfast, terrible, all donuts and bacon and eggs and this and that. We don 't eat that . We eat croissant, bread with butter and nobody had that . Nobody had a boulangerie or pastry place, nothing . So my gosh, all these memories .
INGRID SISCHY : How could guys who have had never had a store before, who knew nothing about fashion — you just named that you had four stores within America within a few years? Where did that knowledge —
PAUL MARCIANO : Within a year.              
INGRID SISCHY : Within a year. Where did that knowledge come from? How did you all know what the hell you were doing?
PAUL MARCIANO : Don't forget that we come from '73, '4, '5, '6, we opened 26 stores in south of France.
SANDY BRANT : Yes. So you 're having the same kinds of things? The Naf-Naf?
PAUL MARCIANO : …, MacKeen jeans, like Steve McQueen . That was the biggest brand in France in the 70s and 80s. He was a friend of mine in Marseille . So we opened these stores?
SANDY BRANT : They were in the south of France .
PAUL MARCIANO : I will send you pictures of our stores. Everything was hanging from the ceiling, on a door- it was like a three ft store, but it was fun. There were stone-washed jeans. We introduced stone washed jeans in America . That was a big break for Guess.
INGRID SISCHY: So all four of you are kind of ln different ways working on the business, but it 's not very clearly delineated or was it?
PAUL MARCIANO: Everybody did everything . Maurice, who spoke English, worked with Philippe to find the stores, getting the leases and getting Philippe to organize and remodel . What do we put in a store? We didn't know how to redecorate a store. We went to second-hand furniture stores and we bought things like a $200 table or a $600 bench , or a $300 credenza. We got shelves at the bakery manufacturing store and we put T-shirts and jeans in the bakery shelves .
INGRID SISCHY : So you basically became successful within the first year.
PAUL MARCIANO : Oh, right away, absolutely. We had a product now . I was shipping all the products from our stores in France to them. I was having in France in our stores. We had Naf-Naf, which was amazing, at the time Oxygen. We had this expensive, phenomenal German brand, with rhinestones and all that .
Then we had Felix, a French brand . We had our jeans, MGA, and MacKeen, which was a friend's, and one other, Chipie. The creator of Chipie, Jean-Michel Signoles, was a genius guy . When he [Jean-Michel Signoles] sold his company in the late 90s, he bought a brand of luggage called Goyard. How crazy is that?
PAUL MARCIANO: It was one store, with manufacturers from the 18th Century or 19th Century, and look what he did in 20 years with that .
INGRID SISCHY : So you are immediately successful.
PAUL MARCIANO : Immediately, because we sold product that nobody had . The craziness in America in the 70s — Sassoon jeans, Calvin Klein jeans, Chemin de Fer jeans, Bonjour jeans, who else? Gloria Vanderbilt .We all did the same, five-pocket jeans with an embroidery on the back, rinse, rinse, and this is where the story starts .
PAUL MARCIANO: We went from that to a store in New York. Our store in New York — don't ask why . We opened a store a  block away from Bloomingdale 's, in the 50-60s and Second Avenue .
INGRID SISCHY : until the Guess story starts, you were selling basically the same as everyone else.
PAUL MARCIANO : Basically yes, with a French name, French brands, which nobody had.
INGRID SISCHY : I want to talk about the psychological thing about the early days in America. Did you feel like outsiders Was it difficult? Were people open to you?
PAUL MARCIANO : Beyond that, Ingrid . The more you succeed in France, the more people envy you .They wish that you would sell in France, and it is a very strong thing, especially in the south of France.
SANDY BRANT : Badly .
PAUL MARCIANO : How do you say that in English? In France, the success was not accepted and that 's the way we felt.
SANDY BRANT : Because people are jealous .
PAUL MARCIANO : My point is in America, on day one – anywhere we went , anything we did, anyone we met asked, "How can we help you?" That does not exist anywhere else in the world .I mean , nowhere.
We went to America and people didn't know who we were, but they saw these three enthusiastic, young, fashionable guys and we said , we want a store. I mean, I have so many stories.
We went to Mitsui Bank — an American branch — and we found a guy there, named Bill .
We went to downtown LA , to the California Mart, where they specialize in the garment industry business, and asked Mitsui for a loan. We got a loan right away . Are you kidding?  In France, it would take months and years before a bank would give you a loan and ask you for guarantees — why, where, when. Here in America banks want to see what your plan is, and what you want to do . You want to do that? Okay, we 'll give you that .