Paul Marciano – His spiritual life, his love for the movies and MGA 
SANDY BRANT: What were your ambitions, your dreams? Then the key is what music did you like and is this when you began to love the movies?
PAUL MARCIANO: Well, I have ambitions and dreams. I do not know what drove me honestly Sandy because I don 't know if it's my sign — I'm an Aries, or my Chinese sign which is a dragon .
SANDY BRANT: Of course.
PAUL MARCIANO: I always follow my instinct — on good things and bad things. I smell people . I sense a vibe in a room in five seconds. Since I was a kid, I was always fascinated by astrologists, psychics, by parapsychology things that my brothers thought were crazy.
I loved graphology. I had my writing analyzed when I was like 18.
PAUL MARCIANO : Today I'm 60 and my personality at 18 was exactly all my life what I have been on my writing . But everything like that fascinated me. When I came to America I started to med itate.I didn 't know what it was, but I learned through a lady I met by accident, named Carmen , who was Elvis Presley's meditation teacher . I met her when my girlfriend brought me in and said, "I want you to meet my teacher. "I said, "Teacher of what?"     She said, "Meditation."         I said, "What meditation?            What is meditation? "She said, "Just meet her. "Her name was Carmen.
Things like that, instead of being shut down or closed, like my brothers were, all of them, I was completely open. I was born like that and I cannot help it. So to get to the subject, when I was a teenager, 12, 13, 14, I skipped school a lot.
Where was I? I was going to the movies, which were next to my home. There were two little theaters two blocks away and my parents could not find me. I just sat in the theater next door. It was art and essay, only very advanced movies, classic movies, all the black and white movies.                It was not like the action movies at all. It was like some theatres in New York that only specialize in cinema of art and essay (pronounced SI).
SI: How do you pronounce SI?
PAUL MARCIANO: Essay — art and essay, which is e-s-S-A-I, which means — what does it mean in French? Art and try — it means all the new actors, all the new producers.
SI: What we call art house.
PAUL MARCIANO: Exactly. However, in French it is called art and essay. This is where I discovered the movies with all the big names who were not that popular to the public. They were so inspiring to me. Li key Blow Up.
INGRID SISCHY: Yes, of course.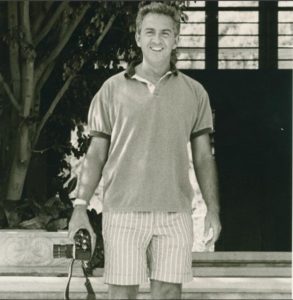 PAUL MARCIANO: All of these things that I was curious to see. There were some movies made out of the books of Jean Paul Sartre.
SANDY BRANT: And were they mainly French movies — no American movies?
PAUL MARCIANO: Oh, there were Italian movies of Fellini because we were playing all the Italian movies, and I do not remember honestly. I don't remember that many
Coming — because it was an issue of language. At the time, in the 60s, I do not remember if there were any of the big dubbed versions — only highly popular movies like Ben Hurl, or like Kirk Douglas and Jimmy Stewart and Hitchcock. They were in French. There were no subtitled movies made. That means that the movies that were not popular would not make it to the movies.
INGRID SISCHY: So it sounds like Paul, it was the Avant Grade movies, the new wave
PAUL MARCIANO: Exactly.
INGRID SISCHY: And was it Antonioni and all that?
PAUL MARCIANO: Yeah, Antonioni was a big one and he died young, I think.
INGRID SISCHY: Yes. What do you think it was about the movies that drew you?             
Why were you going there instead of school?    What was it, Paul?
PAUL MARCIANO: I always loved to dream, and I dream all the time. I dream. I visualize. I am not a big sleeper. Therefore, my mind wanders very quickly. In addition, I think that is what drives most of the people who have some big dreams, is to make that dream a reality. That is what it is.
INGRID SISCHY: So that brings back to Sandy's question, which is, 'What were your dreams then? "Here you are this kid. You are not going to school.  You are in the movies.
SANDY BRANT: What were you dreaming?
PAUL MARCIANO: Well, I was dreaming different things.
First, of course, America from the TV was a big influence and in the movie theater. You talk about 60s in the 60s you had all of these movies of Clint Eastwood with the Sergio Leon, in French, and that was very popular.
I was fascinated by Clint Eastwood. He was one of my biggest, biggest idols. Then he started to do all of these early 70s, '71, '72, '73, he did all these Dirty Harry movies, if you remember that.
He amazed me. His very first movie, Play Misty for Me, in 1973, was a revelation for me.
PAUL MARCIANO: if you look when you ride the coast, when he drives in a convertible car and he is a DJ, he goes, and he meets these girls. He was so good looking. Forget about any other actor, he was stunning.
PAUL MARCIANO: Twenty years ago, I had dinner two or three times with him in the south of France, because he was with Warner Brothers bringing Unforgettable and the producer was a friend of mine. We were sitting next to each other at dinner, he is the one who told me about trans-meditation, and he said, "I have been doing meditation for 40 years."             I did't know that. I was so surprised to hear that from this person who was a tough man and all that. He never drank coffee in his life.          Never.  He does't drink, he likes wine and cigars, but very healthy and works out. The person was fascinating.
There is only one kind of person in the world, who can transform from an actor to a producer and director, and it is he. There is nobody who has done what he has done.
Everyone tried and everyone failed to have that success as producer/actor, producer/director.
PAUL MARCIANO: You know that he was a carpenter.
: At the beginning he was an actor he went to classes very early on here, but to make money he was in construction, the same as Harrison Ford
However, he was on a side job because he could not find a good job to pay and he was doing handy work. In addition, handsome he was.
SANDY BRANT: So handsome.
PAUL MARCIANO: We went away from the dreams.
INGRID SISCHY: So yes. You are 22, 21, and 23. You are doing this stuff in Marseille. You are getting them to make a blouse and then a dress. What were your dreams Marciano?
 If you were to shut your eyes at that moment, what would it have been?
PAUL MARCIANO: America. We now had a lot of stores in the south of France, not that many, like 10 or 15. Then we went up to 26 stores, but tiny and seasonable stores. I was dreaming something bigger and bigger. In addition, my brothers were the same. We watched all these shows on TV, if you remember Starks & Hutch.
PAUL MARCIANO: Starks & Hutch was amazing. I mean, pretty girls, California beach, amazing cars. We loved all these cars. We were dreaming. One of my silent dreams always since I was a kid was to have a flower shop. I love flowers. In addition, I do not know how that connects to anything else, but I think that flowers work up my sense about many things.
I went in a flower store, and I was on a different planet for no specific reason. Anywhere in the world you go in a store with flowers, the door is always closed to keep it cool, and also the smell is identical anywhere you go in Paris, in France, in Italy, anywhere. One day I know I am going to buy one.         I know that.
PAUL MARCIANO: I have not done it, but I am going to.
INGRID SISCHY: I think the next time we come to the Guess headquarters, there is going to be a beautiful flower shop there. It will happen.
INGRID SISCHY: With this American dream, was there a moment where you just said, "Okay, we are going?"    Was there a lol of talk?           And also we want to ask why LA because that 's very unusual?
PAUL MARCIANO : No.  Okay, when we came from Algiers, we went to Marseille. Marseille is all about the sun, the beach, the water and any southern countries in Europe have the same characteristic. South of Italy is the same as the south of France . South of France is the same as the south of Spain — identical , same mentality, same warmness, same hospitality.
SANDY BRANT : Same vegetation . It 's all the same flowers.
PAUL MARCIANO: Food – the best food is already in the south of France. The best food is in the south of Italy. It's the best food in the south of Spain. I mean, always. And also they work less because we have more sun and more days at the beach. So we never thought one minute to live in Paris. We never thought one minute to go to London. Never . And I was in Paris every week to do buying for the stores. Every week on Monday I would go Sunday night , arrive Monday morning — take the flight Monday
night and be at work Tuesday morning in our stores to do the wholesale buying in Paris, like T-shirts and things like that .
We were manufacturing bottoms, skirts, jeans and T-shirts. We were buying a lot of stuff in Paris with other brands like Naf-Naf at the time and other brands.
We, as I mentioned to you, and it's key to understand, we closed all of our stores between October 15 until March 1 because we are at the seaside. So there is no business –
INGRID SISCHY: Every year?
PAUL MARCIANO: Yeah, it was a seasonal store — stores only at the beach — and I give you the name Cassis, a gorgeous village, ten minutes away from Marseille, and as beautiful as St . Tropez. So places like that, like Bandol, which I mentioned to you, Sanary , all these little villages.
So in all of these villages there are like 5,000 people in the winter, and in the summer, it goes up to 75,000 people because all of the south of France is full of Italians, Germans, Belgian, and English people, who all come from north of Europe to the south of France and south of Spain, of course. So we close the store and we are doing wholesale in Marseille only for the business we do, but all of our shops are closed. All of them.