Paul Marciano – The beginning – His childhood, his family and his first job
SANDY BRANT: You grew up in France in Marseille. Tell us what your family was doing there. How did they get there?
PAUL MARCIANO:We ended up  in Marseille because my father was a Rabbi in a French colony in Algeria . Algeria was depending on the Paris Jewish organization, which dispatched rabbis from Paris to different cities and colonies.
INGRID SISCHY : Wow.
PAUL MARCIANO: Tunisia, Algeria, Waterloo Bay, I mean anywhere which was a French colony . So my father was named to be transferred from Algeria to Marseille, so we moved from Algeria to Marseille.
SANDY BRANT: How old were you when you  first got to Marseille?
PAUL MARCIANO: I was two. Then six or eight years later he was transferred to Mexico City . He went, but came back. He could not accept the transfer because there was an issue of altitude for my mom , so we decided to stay in Marseille. So that's how we end up spending so many years in Marseille. We arrived in 1954, when I was two. I stayed there basically the whole time I was growing up, between Marseille and Bandel, which was a little village next to St. Tropez. We lived in an apartment attached to the synagogue.
There was an apartment for the Rabbi in charge. So we lived in that for years. We had two bedrooms. One bedroom for my parents and my sister, and the other bedroom for us four brothers. All in one bedroom, yeah.    I think the whole place was like, I don't  know, 900 square feet or something like that .
No, it was smaller than that. It was 700 square feet. We were there for years, many, many years. But then after that we went from one apartment to another in Marseille, but my father was still a Rabbi. He was making extra money doing a lot of weddings, bar mitzvahs and other stuff, and we decided to move to an apartment outside the Temple because it was so, so small and we were getting older.
INGRID SISCHY: was it expected that you and your brothers would join the rabbinical tradition?
PAUL MARCIANO: My grandfather was a Rabbi. My great-Grandfather was a Rabbi.
And it turned out to be on me, that my father decided that I should be a Rabbi. So he sent me to Strasbourg on the border of Germany to the yeshiva. Do you know what the yeshiva is?
SANDY BRANT: Yeah , it 's a school.
PAUL MARCIANO: So I go there . My mom takes me there in a train and drops me there with my suitcase and some giftwrapped cheese and chocolate and all that . I stood there. I remember it like it was yesterday. I didn't  do very well there. Strasbourg is a very, very cold city, and it was the middle of the winter. It's very close to Germany — like 15 km away.
PAUL MARCIANO: I was like eight . They woke up at four in the morning everyday, and took you downstairs to go to pray.Every day they woke you up and it was pitch dark and cold and you had to go downstairs, and wash your hands and face. Then you had to pray. It was pretty tough.
After two weeks — I think it was 2 1/2 weeks – I couldn't  take it and I ran away from school.
PAUL MARCIANO: I saw that the door was open at the school and I got out . Honestly, it was like jail. It was so tough. I went on the street in Strasburg — for a day and a  half, and I slept out one night . I have cousins in Strasbourg, and the second night I found the address of my cousin . I'm talking eight years old, not 15 years old.
And then the school called my parents and said they could not find me and this and that . The day after, my cousin called my parents to say, "Your son is here with us."        Imagine how relieved my mom was . She came to get me and imagine what I got when I went home?
PAUL MARCIANO: And little spankings and everything else . My father was furious, but we could not do anything. I said, 11 I am not going back ."I said, "I don 't like it," and that 's it . At age eight I had my first test of being a rebel.
SANDY BRANT: Were you and your brothers the first generation of your family to have an interest in fashion?
PAUL MARCIANO: Absolutely.
INGRID SISCHY: how did it happen?I mean where did that come from?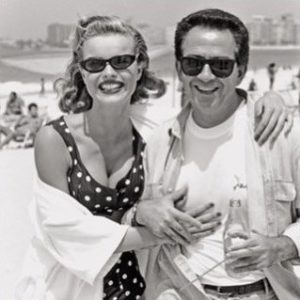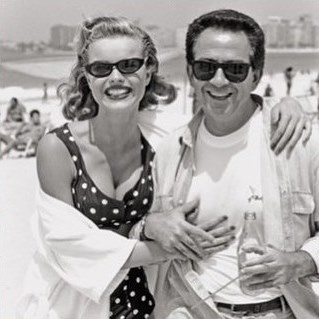 PAUL MARCIANO: Well, George was a hairdresser. Armand was a welder.
PAUL MARCIANO: Then Maurice was at medicine university in Marseille and I was nowhere. I was a salesman in a jeans store after my episode in the kibbutz in Israel. The store was named G-Ge-B, which was the name of the owner Jack …And one day we got together and decided to do ties. Maurice didn't want to be a doctor. My father kept pushing him to be a doctor, but it didn 't happen . George didn't want to be a hairdresser. Armand was allowed to weld . So we decided to manufacture ties .
INGRID SISCHY: In Marseille?
PAUL MARCIANO: In Marseille . Before that, we decided to open a tiny apparel store for men. We decided to do custom measure suits, for men with shirts and things like that.  We had the little store with an apartment behind it .
INGRID SISCHY: where does this come from? This interest?
PAUL MARCIANO: My mom always told us to stay together .Be one .She always said you 've got to work together and stay together , the family is important .
I think it was by pure accident that there was an empty store next to where we lived, with an apartment behind it. We were all single, and super young.I was actually 18 years old.
The store where I was selling jeans was also doing suits.               Not to forget, I was in suits for the French Connection people .
PAUL MARCIANO: The French Connection, the real French Connection, I mean, you saw the movie?
All the players of that, they were my customers.
PAUL MARCIANO: We were doing suits for them in the store . At the time, in the 70s, they would leave and give me a tip of 500 francs — it was one bill, the biggest bill that you can have, like $1000 today . These guys were the nicest people, good-looking men . We were all doing five, six, seven suits for each of these customers. I was 16.
So this is where me , Maurice also to another store next to us to do suits, custom measured suits.We took the measurement of the chest, shoulders, of the pants, this, that and you tailored the suits in the city. All of them, they were either Armenian or Jewish, and there were many of them . So that 's how we learned . And we said, "Why do we work for somebody else?     We should do it for ourselves ."
INGRID SISCHY:  Basically, these guys were kind of gangsters, obviously , but really great, right?
PAUL MARCIANO: That was most of our customers, but this was not the customers — that was the customers at the store I was working at, but we were — I mean the people, these kind of people would spend $10,000 in one day at the store.
INGRID SISCHY: while you were that age, 18/19, beginning this, what would you do at night?
What were the things that were inspiring you?
PAUL MARCIANO: I had two jobs . I was working as a salesman at that store. At night, I was a DJ, so I was working in the clubs . And in Marseille — who owned these clubs?
INGRID SISCHY: The French Connection.
PAUL MARCIANO: Exactly . They were the same customers . They were customers of these clubs. They were the top of the top of the cream of these clubs . They were the same people you see today in Miami and in New York– taking like 15 bottles of that, 12 bottles of that . They were big shots.
I got to know a lot of them and became friends with some of them because I was a kid . These guys in Marseille gave me a lot of value in my life about respect, friendship, loyalty, and honor . Everything that street tells you in Marseille, are key values for me as of.
PAUL MARCIANO: I wrote a card for Guess years ago called personal values — about belief, hope, destiny, rust, never forgetting your roots, and respecting others.
I mainly learned from the streets and from my mom, because all of those values were also from my mom .                Those are the two big pillars of my life — my morn first, and the street after.
INGRID SISCHY: What would you say the dynamic of you growing up of the Marciano brothers was?
PAUL MARCIANO: A lot of ideas came from George – doing ties, and blouses, he wanted to do this and that . If you see the dynamic, it would be George came up with ideas. Maurice would put things in place, because he was very methodical, very organized. I would be in the field immediately because I'm not good in an office anywhere. I like to be free; I like to be on my own doing things . Armand was basically transferred to do bookkeeping, invoices, payment, things like that, which was the back end office. So that was pretty simple .
INGRID SISCHY: Fascinating.
PAUL MARCIANO: At night we closed the store and had our apartment , where all four brothers lived, right behind the store . We are all 18, 20, 22, 24. We went out together, ate together , and woke up together . We had our first coffee together in the morning at 7 AM and so on .
PAUL MARCIANO: And the reason I wanted to say why we decided to do ties, was because it was one style, one size, and we could use left over fabric at any fabric store.
INGRID SISCHY: Yeah, remnants .
PAUL MARCIANO: Fabric stores all have leftovers of  5 yards, 6 yards, 10 yards, 20 yards, that they cannot do anything with . They give the fabric to you for five francs a yard, or one franc a  yard.
The fabric in manufacturing was so simple.We went to the guy who did the suits and said, "Can you cut the ties for us?" And he started to do that. He would cut 20, 30, or 50. Then I went on the road to sell the ties. I sold them every day — everything.I would come back and say,
"I need more ties. I need more ties ."     I went to every store in Marseille, Provence, Avignon, Arles, Montpelier, all the cities in the south of France .
The quantities became bigger, so we went to find a lady who could cut ties by the hundreds . We went to an American lady, Mrs . Medissian . We saw cell stack for women
that she was cutting and we didn't see ties. We said, "Oh, what is this ."                She said, "Oh, I'm doing some blouses for a little boutique in Marseille. They have four stores. They want to do some blouses, so I cut it for them ."And we say, "Well , that 's interesting ."
Maurice — I think it was Maurice — said, "Why don 't we do ties.Why don't we do maybe one blouse for women which is one style, one color, one size," which was a choir blouse — you know when the boys go to the church and sing .
SANDY BRANT: Oh, choir.
PAUL MARCIANO: with just one size. It 's like a black peasant — how do you call that?
SANDY BRANT: Like a peasant blouse.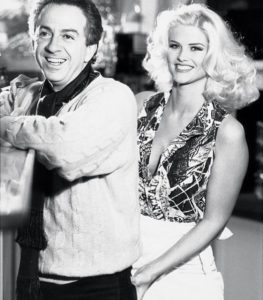 PAUL MARCIANO: It was a peasant blouse, which was white, and fits all. The only difference was that we put this English embroidery on the sleeves. What do you call that?
SANDY BRANT: Broderie Anglaise.
PAUL MARCIANO: Gorgeous lace. So we had that. I didn 't tend to a men 's store anymore.I went into my field, which was a women's store. I mean I was like 19. I went to any women 's store in Marseille, in Cassis, which is next to Marseille, St. Tropez, Toulon, every little store, and I sold the blouse like crazy … and one size.
So one day we said, "Okay , we did the blouse . Can we do a dress? And we said, "Yeah , but we don't know how to do a pattern and all that ."We went to do one style and one size dress. i'm not joking. It was this wrap dress like a kimono.
INGRID SISCHY: Oh wow , pre-Diane von Furstenberg.
PAUL MARCIANO: We 're talking in the 70s. A wrap dress with all this kind of a satin Asian print — gorgeous Asian print, silky on the blues, on the black, on the pink. A gorgeous one-size, one style, and different fabric that we find . Then we had two styles — the blouse and the dress. And we sold them — and of course… it was madness. And one day I think Josh said, "Okay , now we have done that.Why don 't we do jeans?" And that is how we started jeans .
PAUL MARCIANO: '76 maybe — '75 we are talking about. '75 I was 20 — no, '75/'74. And we start the jeans and we call the jeans the name of the store, MGA, Maurice, George, Armand, and that 's how we made the first MGA jeans, and we did that for years. We decided to open stores with T-shirts, jeans, blouses, skirts, dresses, and now forget it. Then we had all the denim business with T-shirts, with the Mickey and Snoopy logos on it. The Fruit-of-the-Loom T-shirt over-dyed. it was madness .
We decided to open a store at the seaside . The first store before was a fish store. The guy went out of business. He gave us the store on a  Friday and we came in the store Saturday, and we opened the store at 9:00 AM on Sunday with all the fixtures for selling fish.
PAUL MARCIANO: We cleaned and we put perfume everywhere . We worked like until 2:00 in the morning tO clean up. At the end of the day, I swear to you we must have sold half of the store